Why Outdoor Umbrellas Are the Best Outdoor Shade Product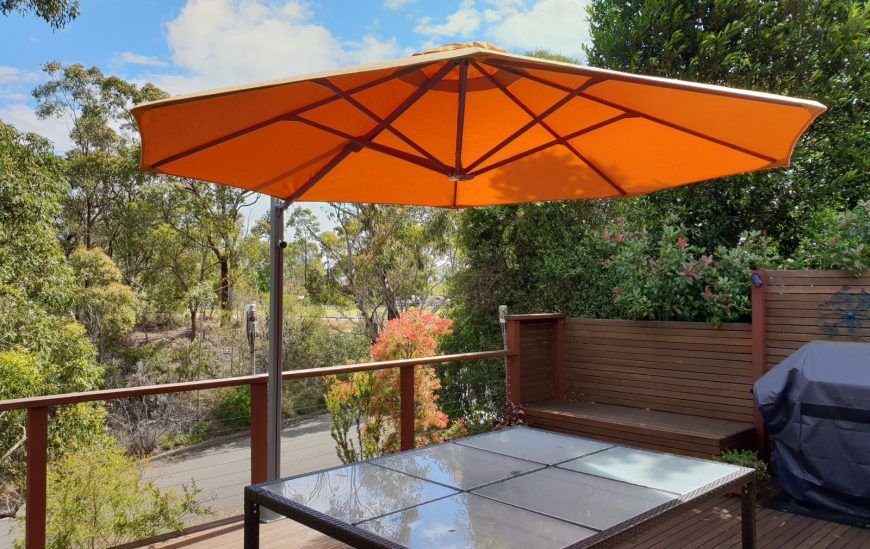 If you have done your homework and have looked around for outdoor shade products in Sydney, you will see that you have many options at hand. From shade sails and canopies to blinds and awnings, each has its own set of pros and cons.
However, if you ask me what the best outdoor shade product in Sydney is, I'll tell you, "It's got to be one of our outdoor umbrellas". I may be biased in my favouritism, but hear me out, because, at Ashadya, we not only supply and install the best quality outdoor umbrellas in Sydney, we also offer shade sails, canopies, blinds and awnings as well. So, there has to be a good reason why I prefer outdoor umbrellas to other shade products that we sell.
In this article, I will explain the reasons why I believe outdoor umbrellas are the best outdoor shade products for Sydney residents.
They are very affordable
Of all the available outdoor shade products in Sydney, outdoor umbrellas are by far the most affordable. From as little as $500, you can purchase a quality umbrella manufactured from one of Australia's leading outdoor umbrella manufactures, Shadowspec. This is much cheaper than investing in an awning, shade sails, canopy or custom membrane structure and significantly cheaper than investing in a fixed shade product like a pergola.
They are portable
Another reason why outdoor umbrellas are one of the most popular outdoor shade products in Sydney is because of their ability to be moved from one location to another.
Unlike other outdoor shade products, outdoor umbrellas have the option to be portable. Those with portable bases can easily be moved to shade various areas of a backyard or premises. In the morning, you can enjoy a shaded breakfast on the deck, and in the afternoon, move the umbrella over the pool to enjoy a dip in the pool without fear of getting burnt.
If you're looking for an outdoor umbrella with a portable base option, consider our SU2 Market & Cafe Umbrella, SU4 Rotating & Tilting Cantilever Umbrella, SU6 Multi Mast Cantilever Umbrella, SU7 Rotating Cantilever Umbrella, and our SU10 Commercial Centre Pole Umbrella.
They suite a variety of applications
Another reason why I believe outdoor umbrellas are the outdoor shade product in Sydney because there really isn't any application that they are not suitable for.
With masts ranging in diameter from 2 m to over 4 m, outdoor umbrellas can offer up over 12 m2 coverage and given they can come in various configurations; centre pole, wall-mounted, side post and cantilever; there is one to meet the needs of any application. That is, of course, you're looking to cover a mass area. But even in this case, you can purchase multi-mast umbrellas to shade areas as large as 42 m2.
They offer sun, rain and hail protection
There is no other affordable outdoor shade product in Sydney that offers not only sun protection, but protection against rain and hail as well.
Outdoor umbrellas really are the full packing in the one affordable product. Whether its rain, hail or shine, you can rest assured knowing that an outdoor umbrella will offer you protection. When compared to the cost of a waterproof shade sail, awning, canopy or fixed structure, there really is no comparison. Outdoor umbrellas are clearly the best option.
Conclusion
Of the many outdoor shade products in Sydney to choose from, I believe outdoor umbrellas to be the better option for many Sydney residents. This is because they are very affordable, they're portable, they're versatile in their application and they offer protection from the sun, rain and hail.
If you're convinced that outdoor umbrellas are the best outdoor shade product to meet your needs, then get in touch with the team at Ashadya Shade Sails & Blinds today. Call us on 1300 570 901 or click here to view our complete range of outdoor umbrellas in Sydney.